House price growth a three-year high
House prices are continuing to grow, even since the stamp duty holiday ended in 2021. According to the latest house price index (Zoopla) reports that the average price of a property in the UK rose by 8.3% in the year before July 2022. Buying a house in London can be expensive as it is, but with this sector in the capital still on the rise, it can make buying a house a real squeeze for some homeowners. But with DABORACONWAY the best Estate Agent negotiators in East London, we can make this process easier for you.
House prices at the end of 2021
The housing market is tipped to have its busiest Christmas in 2021 for more than a decade, as buyers rush to beat the stamp duty holiday deadline, according to our House Price Index.
The housing market is set to have its strongest December – and lead-up to Christmas – for more than a decade, as buyers rush to move home before the stamp duty holiday ends.
This strong buyer appetite and flurry of activity has pushed house price growth to 3.5%, the highest since December 2017.
It means that the average UK house price is now £223,500, according to our latest House Price Index. Discover our article on UK cities house prices and the current growth.
House price inflation is expected to reach 4% by the end of the year.
What's happening to house prices?
UK house price growth has jumped to 3.5%, the highest for almost three years. That's up from 1.2% a year ago.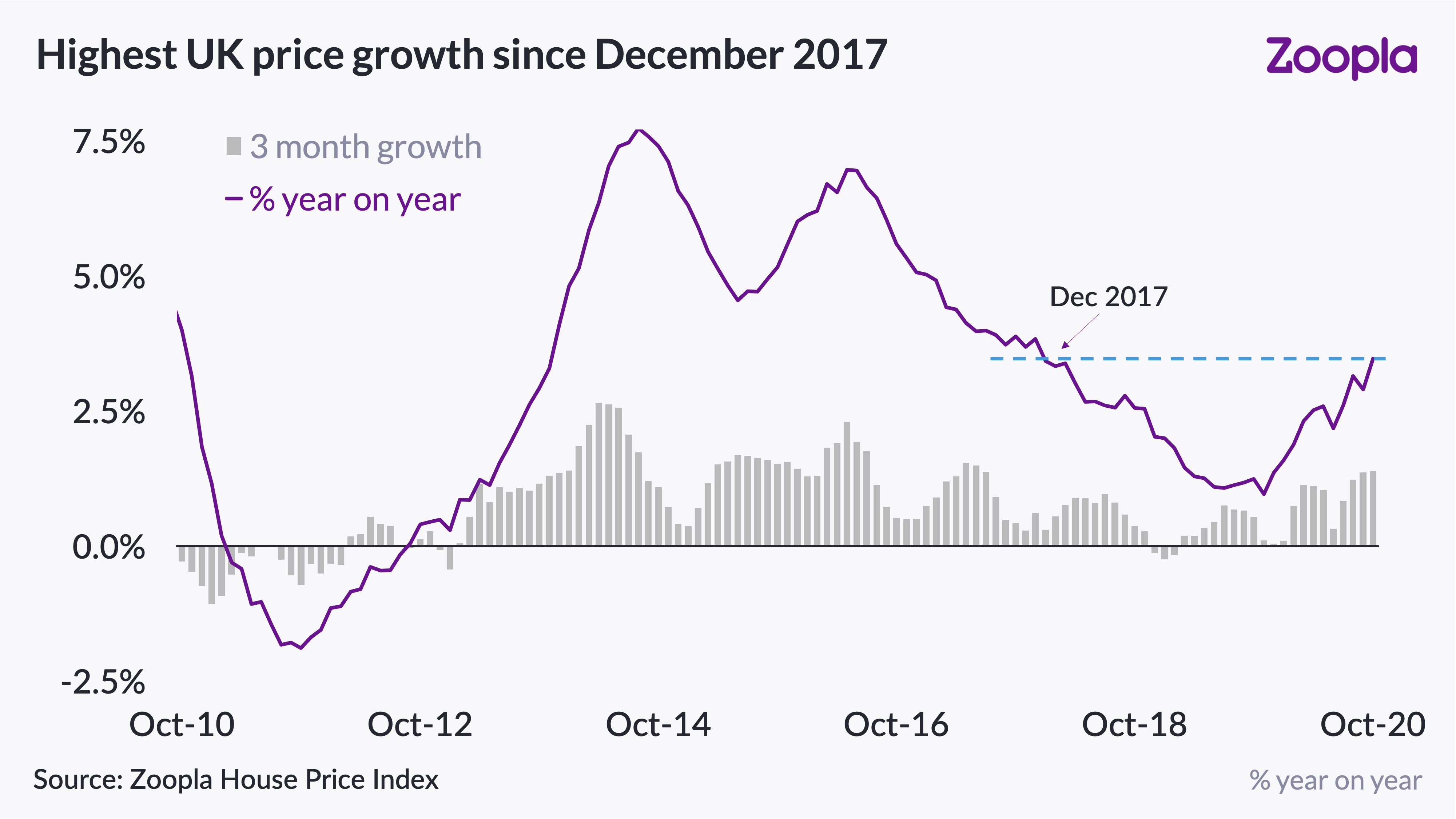 Breaking it down to a city level, Nottingham and Manchester top the index, with house price growth of 5.3% and 5.2% respectively. They are followed closely by Leeds and Liverpool, where house price growth is more than 4%.
All cities monitored by our House Price Index recorded higher growth rates than a year ago.
And at a regional and country level, house price growth is more than 4% in the north west, Wales, Yorkshire and the Humber and the East Midlands.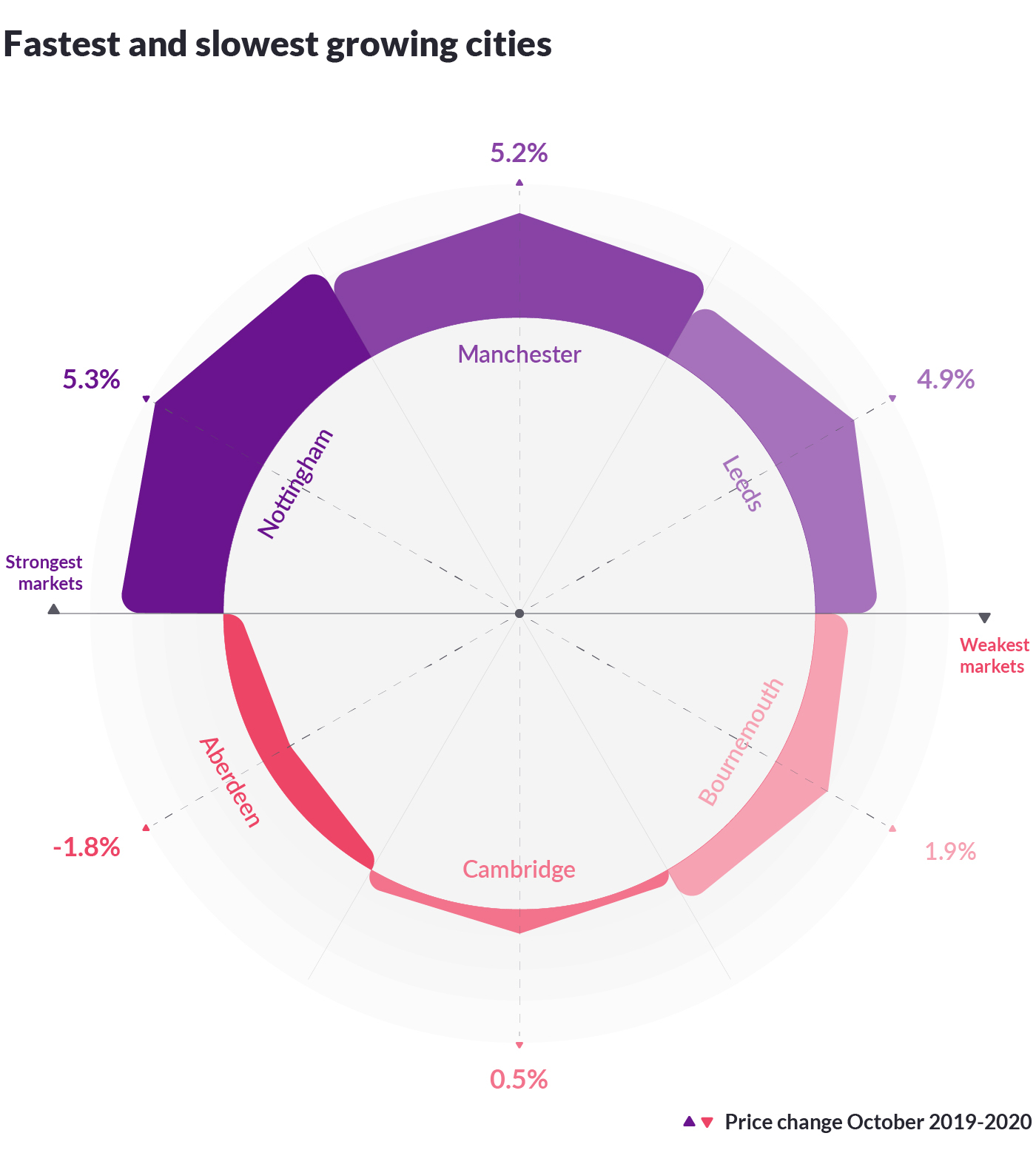 What about the number of property sales?
While housing markets across the UK were shut as the coronavirus pandemic took hold earlier this year, the scale of the rebound has resulted in a "remarkable turnaround", according to our House Price Index.
Pent-up demand following the first national lockdown, a once-in-a-lifetime re-evaluation of housing, and the stamp duty holiday have all contributed.
The property sales pipeline is now 50% bigger than this time last year. And our research & insight team expects 1.1m homes to transact this year, just 6% lower than in 2019.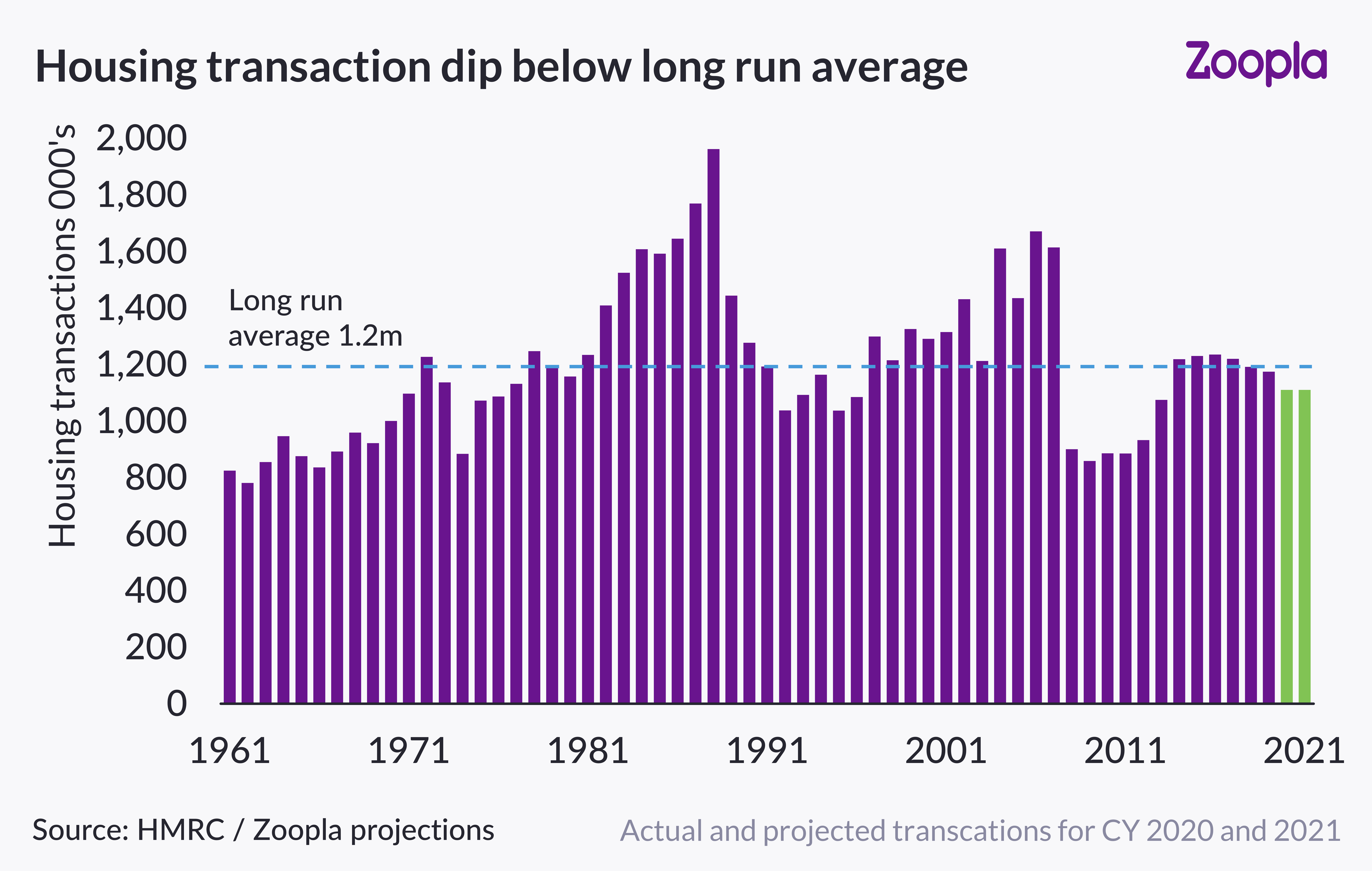 The number of sales has rebounded faster and off a lower base in London and southern England, where transactions levels this year are set to be 7% higher than in 2019.
But the number of sales in Scotland, Wales and Northern Ireland is expected to be lower than in 2019, by up to 12%, with their markets shut for longer during the first few months of the pandemic.
Meanwhile, a combination of sustained buyer appetite and more homes on the market has boosted the number of new property sales agreed, which are running 38% higher than a year ago.
Is buyer appetite still strong?
Since its summer peak, interest from potential buyers has now fallen below pre-lockdown levels. But to put this into context, it remains 34% higher than this time last year.
Demand took a sharp dip after the latest national restrictions in England were unveiled, but it rebounded once the lockdown began.
Appetite levels are set to hold firm for the rest of the year. In fact, estimates suggest December – and the run up to Christmas – will be the strongest in over a decade.
What impact is the stamp duty holiday deadline having?
Our research & insight team anticipates another spike in demand in January, as buyers make a last-minute attempt to beat the stamp duty holiday deadline.
Buyers need to move fast, with just half of property sales agreed in January set to complete in time to make the potential tax saving.
This rush of activity is set to lead to 100,000 additional sales completing before the end of March, with deals agreed in the final months of the year spilling over into 2021.
What's next for the housing market?
Richard Donnell, director of research & insight at Zoopla, said: "It has been a rollercoaster year for the housing market which is ending on a strong note, with demand and sales agreed still more than 30% higher than this time last year.
"House price growth has hit a three-year high and is set to increase further in the short term.
"The high volume of sales agreed this autumn will spill over as completed sales in 2021 and this will support the overall number of sales completed in 2021 at 1.1 million.
"It has been a remarkable turnaround and completed sales look set to fall just 6% short of last year despite a two-month closure of the market in England."
But there are some challenges ahead as the country battles the impacts of the pandemic on the economy and day-to-day life, according to Donnell.
He explained: "The impact on the housing market is less than in previous downturns as sales volumes have already fallen in recent years and affordability levels are far from over-stretched.
"We expect housing demand to slow further over 2021 and this will ease the upward pressure on prices which we expect to be 1% higher by December 2021.
"Lower sales volumes over the second half of 2021 and a growing scarcity of supply will offset weaker demand and support headline pricing levels."
© Zoopla Limited - used with Permission
Posted on: 9 December 2020